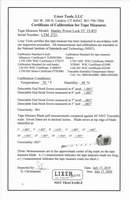 To Prepay for your Tape Measure Recertification use the drop down menu above "quantity" to select your tape measure length. 
Tape Measure Certificates are good for 1 year.
You will be paying for the return shipping at this time also. 
Please include copy of order in with tool.
Please add a note to your order with your serial number.
To add a note to the order, after adding recertification to order, go to "view cart".  From the "view cart" screen you can add a note before to go to the payment screen.
Ship tool with copy of order to:
Lixer Tools, LLC
363 W 300 N.
Lindon, UT 84042 USA
1-801-796-7066